Over 150 years ago, U.S. Maj. Gen. Gordon Granger enforced the Emancipation Proclamation in Galveston, Texas liberating slaves. Today, we celebrate June 19th, 1865 "Juneteenth" as a Federal Holiday commemorating General Order No. 3. Since then, African Americans across the nation have transitioned into their native heritage making an impact despite enduring calamity.
During the Civil War, as many as 16 United States Colored Troops were awarded the Medal of Honor paving the way for more African American soldiers to follow.
Alexander Thomas Augusta was the first highest-paid African American Surgeon General in the Civil War period. In 1865, he worked for the Freedmen's Bureau, which was part of the War Department, providing medical care, legal aid, and education to former slaves. In 1868 Augusta became the first African American to teach medicine at Howard University. In 1870, Augusta founded the National Medical Society. After a groundbreaking career as a physician in the U.S. Army, Augusta received an honorary medical degree from Howard University. Henig, Gerald S. "THE INDOMITABLE DR. AUGUSTA: THE FIRST BLACK PHYSICIAN IN THE U.S. ARMY." Army History, no. 87, 2013, pp. 22–31. JSTOR, http://www.jstor.org/stable/26298851. Accessed 6 June 2023.
In 1940, Benjamin Oliver Davis Sr. was recognized as the Army's first black Brigadier General. Davis began his career in 1898 as a second lieutenant in the District of Columbia National Guard after graduating from Howard University. Davis was commissioned as a first lieutenant in the 8th U.S. Volunteer Infantry's Company shortly after. In 1899 he joined the all-black 9th Cavalry Regiment, also known as the Buffalo Soldiers, serving in the Indian Wars. In 1905, Davis was assigned as a military science and tactics professor at Wilberforce College, a black institute of higher learning. Following his retirement age, he remained on active duty to perform wartime inspections of African American units and offer recommendations on racial integration policies. National Museum of the United States Army (thenmusa.org)
Continuing the Legacy, Benjamin Oliver Davis, Jr. became the first African American Brigadier General in the United States Air Force and commander of the World War II Tuskegee Airmen advancing to 4-star general in 1998 by President Clinton. https://www.af.mil/About-Us/Biographies/Display/Article/107298/general-benjamin-oliver-davis-jr/
Other trailblazing leaders include USAF Fighter Pilot Daniel "Chappie" James Jr. and Secretary of State Colin Luther Powell, who were 4-star generals.
In recognition of hometown hero Gen. James Jr., Pensacola has renamed the 3-mile Bay Bridge honoring the fallen soldier. He is also featured at the memorial plaza near the bridge which displays an F-4 Phantom painted like the one he flew as a Tuskegee Airman.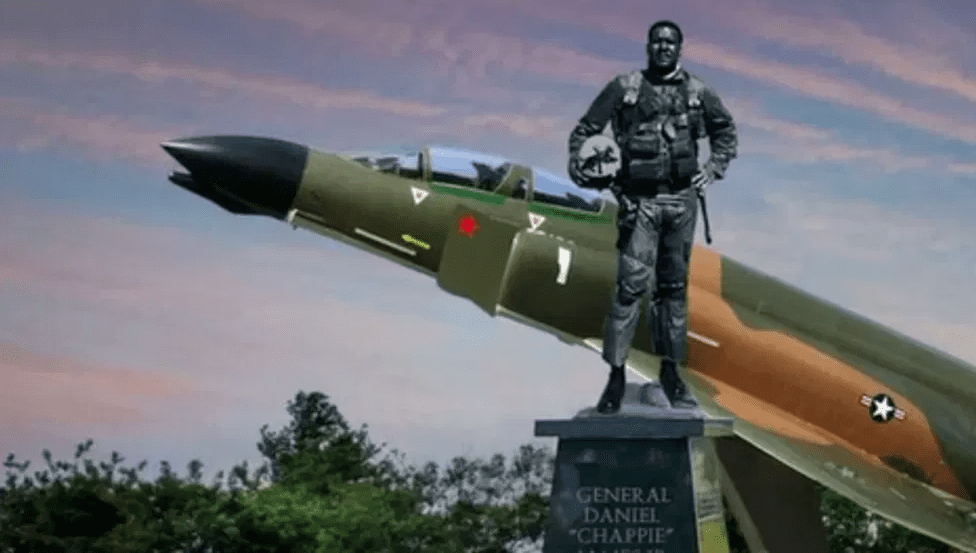 https://weartv.com/news/local/fighter-jet-to-be-displayed-with-chappie-james-set-to-arrive-in-pensacola